The University of Baguio recognizes the outstanding researches conducted by undergraduate and graduate researchers. The activity aimed to encourage quality research production and presentation among students, thus the oral presentation for best student research is conducted annually to showcase their research studies, and findings in various disciplines.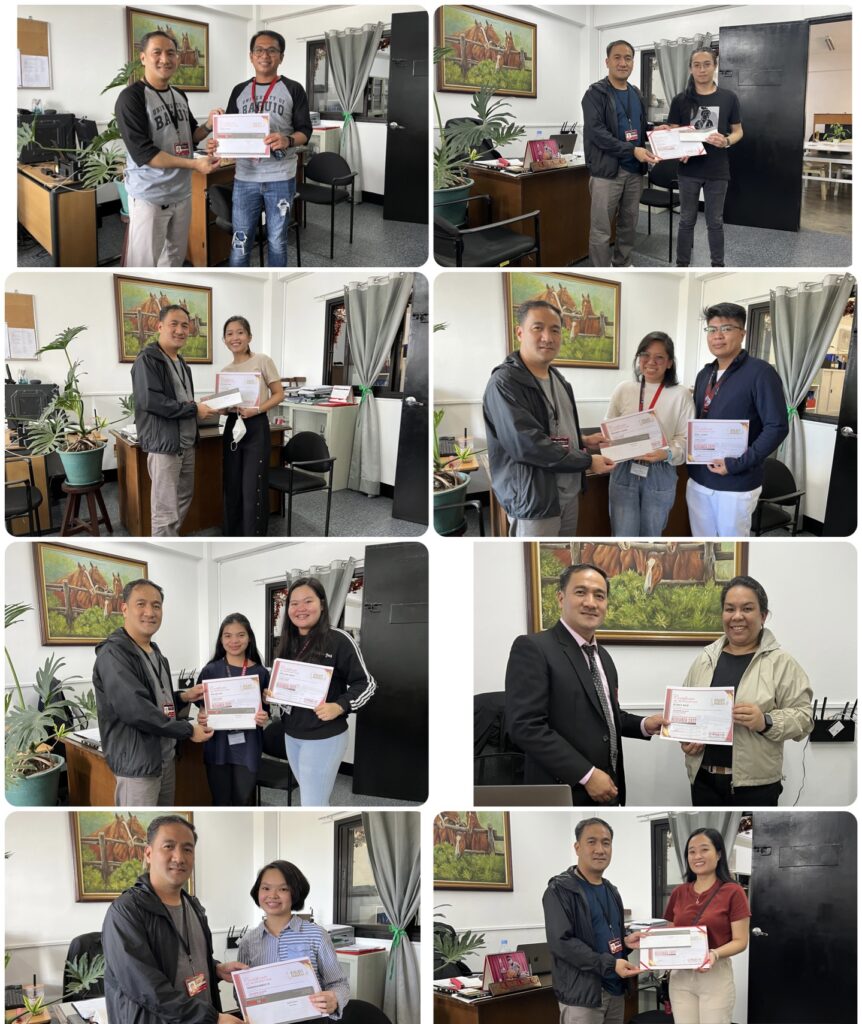 The activity was conducted through Zoom Meeting in a parallel session last November 16, 2022 with students, faculty members, and panel of judges from different institutions. There were four categories of the research study namely; graduate school, health, social and applied research category. The panel of judges of each category composed of (a)one IRC, (b) one REC and (c) one external evaluator; and four moderators are assigned in each category to facilitate the flow of program.
The activity on each category is simultaneous and it was executed according to the instructed program. Overall, the activity went well according to the flow of program and with the teamwork of RDC staffs to make the event successful.
The results of the search for Best Student Research are as follows:
Graduate School Category
| | | | |
| --- | --- | --- | --- |
| RANK | Title of Study | Researchers | School |
| 1 | Children Having Children: Effects of Poverty to Indigenous Women | Ms. Leia Grace Elaine Unarce | Graduate School |
| 2 | Determining Organizational Effectiveness Through Organizational Diagnosis: The University of Baguio Experience | Dr. Ruby R. Buccat | Graduate School |
| 3 | Gamification on Education Toward Enhancement of Learning Filipino among Intermediate Students of UB | Mr. Lexter S. Eligio | Graduate School |
---
Health Category
Rank
Title of Study
Researchers
School
1
Knowledge, Attitude and Practices of Baguio City Plant Enthusiasts Regarding Soil-Transmitted Helminths Infection
Allawan, Gayle
Angel, Riezle Cate B.
Bomogao, Marjhun G.
Dela Pena, Kathleen Martin, Alpha Joy L.
Pulas, Jennievive C.
SNS
2
A Quantitative Study on Math Anxiety among Senior High Students of the University of Baguio Science High School
Martires, Maria Juliana Karin A.
Uy, Franchesca Bianca P.
SHS
3
The Neck Posture Practices among University of Baguio BSPT And BSMLS Students During Distance Learning
Agbalog, Crystal Jewel
Balabbo, Krystal Shine
Battuing, Kyra Sophia
Gomez, Nadine Angeline
Mang-osan, Hazel
SNS
---
Social Category
Rank
Title of Study
Researchers
School
1
Perceived Factors Influencing Use of E-Wallets by University of Baguio Business Administration Students
Andrea Corona
SBAA
2
The Experiences of Firstborns on Pagtanaw Ng Utang Na Loob Toward Family
Bianca C. Baculi
Jona Mae Q. Garapo
Lois L. Polvoriza
STELA
3
An Assessment on the Checkpoint Inspection Amidst Pandemic In Baguio City
Leah Angelene O. Amading
Axel B. Angawa
Gino P. Anniban
Daryll B. Bagangao
Taylor O. Bucsit
Heather Faith A. Fabian
Froline A. Killase
Jennifer F. Kewan
Achille Hamlet M. Valencia
SCJPS
---
Applied Category
RANK
Title of Study
Researchers
School
1
Pingmylocation: Proximity and Asset Tracking System
Don Jeremiah N. Gabriel
Iain D. Johnston
Dominique C. Salas
Christian L. Villegas
Erna-Kristi N. Martinez
SIT
2
University of Baguio: The Visual Novel
Paulo Miguel J. Cartalia
Arben Matthan A. Demot
Adrian Tristan T. Fagyan
Adelynne A. Malubay
Erna-Kristi N. Martinez
SIT
3
Utilization of Dental Services Amidst New Protocols During The Covid 19 Pandemic Among Residents of Selected Communities
Ablaneda, Rheina N.
Almacen, Robyn Marie R.
Ballao, Shiela Mae S.
Frias, Kreena Hace A.
Gaculais, Hazel A.
Galanza, Joshua L.
Irang, Abegail A.
Lopez, Bill Juven S.
Marasigan, Ma. Cheyenne Deniece G.
Viloria, Jayani M.
SOD