The University of Baguio, through its linkages office, holds a webinar for its ETEEAP and regular students that aims to train them in properly handling a leadership role.
The Linkages-MAP office of the university, spearheaded by its ETEEAP and international affairs staff, held a webinar titled: Transformational Leadership. The webinar's aim was to equip UBians with more knowledge on proper and efficient leadership.
The webinar's resource speaker, Ms. Anne Constantino, CDM, Business Operations Manager of Fitness First Philippines, educated attendees on what it means to properly lead a team without degrading them. She gave attendees great insight on what it is like handling a leadership role through her presentation and vast experience in management.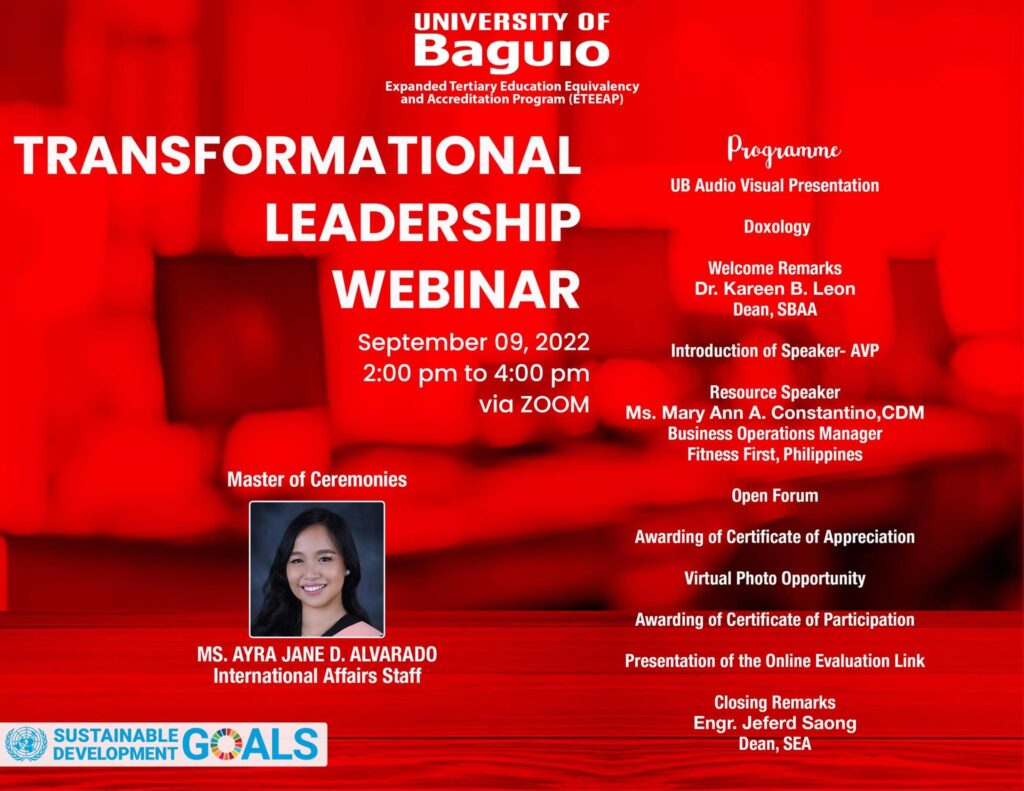 Many students, and graduates, of the University of Baguio end up being one of many potential leaders in their fields. With UB's goal of producing globally competitive professionals, it is normal to see UBians end up in roles that require them to step up and lead. As such UB trains its students early on in order to equip them with as much leadership skills as they can.
The Webinar was conducted on September 9, 2022 from 2pm – 4pm via Zoom and livestreamed on Facebook.
Interested in webinars like these?
The University of Baguio regularly conducts webinars, seminars, trainings, and workshops for its students, staff, and faculty. Follow us on Facebook for updates on future events and keep up to date with all things UBian.