In a significant move towards enhancing educational collaboration and promoting sustainable development in the ASEAN region, three renowned universities from Indonesia and the Philippines recently concluded the signing of a Memorandum of Understanding (MOU). The agreement acknowledges the mutual benefits of collaborative efforts and aims to expand the scope of quality education while supporting the UN Sustainable Development Goals. This milestone achievement was made possible through the joint efforts of the Southeast Asian JCI Senators and the University of Baguio's program on academic mobility, known as "ACCESS: Academic Convergence for Continuous Engagement Through Student Mobility and Openness Toward Sustainable Global Collaboration."
The Participating Universities
The MOU signing brought together three prestigious institutions from Indonesia and the Philippines:
Sari Mutiara Indonesia University: A distinguished institution in Indonesia, Sari Mutiara Indonesia University is known for its commitment to excellence in education and research. With a focus on fostering academic innovation and producing well-rounded graduates, the university has been a driving force in Indonesia's educational landscape.
Yogyakarta Amikom University: Located in Yogyakarta, Indonesia, Amikom University has established itself as a center of excellence in technology and digital innovation. The university's strong emphasis on practical skills and industry partnerships ensures its graduates are well-equipped for the evolving demands of the digital age.
University of Baguio: Situated in the Philippines, the University of Baguio (UB) is renowned for its commitment to academic excellence and social responsibility. With a wide range of programs spanning various disciplines, UB has consistently produced graduates who contribute significantly to society.
Dignitaries Present during the MOU Signing
The signing ceremony was attended by several distinguished personalities, including:
JCI Senator Gene Tan: Serving as the 2023 ASSEAN President, JCI Senator Gene Tan played a pivotal role in facilitating this collaboration. His dedication to promoting regional cooperation and sustainable development has been instrumental in fostering partnerships among ASEAN nations.
JCI Senator Ira Kusumawardani: As the 2023 ASSEAN Business Committee Chairperson, JCI Senator Ira Kusumawardani has contributed significantly to the development of economic ties within the ASEAN region. Her expertise and vision have played a crucial role in strengthening business and academic collaborations.
JCI Senator Rene Florencio: With a remarkable track record as the ASEAN Charter President, JCI Senator Rene Florencio has been instrumental in promoting solidarity and cooperation among ASEAN nations. His leadership and dedication have paved the way for fruitful collaborations in various sectors.
JCI Senator Reinaldo Bautista Sr.: As the Chairman Emeritus of UB, JCI Senator Reinaldo Bautista Sr. has been a driving force in the growth and development of the University of Baguio. His contributions to education and community engagement have been instrumental in shaping UB's reputation as a leading institution.
Dr. Janice Kaylyn K. Lonogan: Serving as the Vice President of the University of Baguio, Dr. Janice Kaylyn K. Lonogan has been at the forefront of promoting academic excellence and international collaborations. Her leadership has been pivotal in fostering partnerships with universities across the ASEAN region.
Dr. Donnavila Marie Panday: In her role as the Director of Research, Innovation, and Community Outreach at UB, Dr. Donnavila Marie Panday has been instrumental in driving research initiatives and community engagement programs. Her expertise in sustainable development and academic mobility has contributed significantly to UB's growth.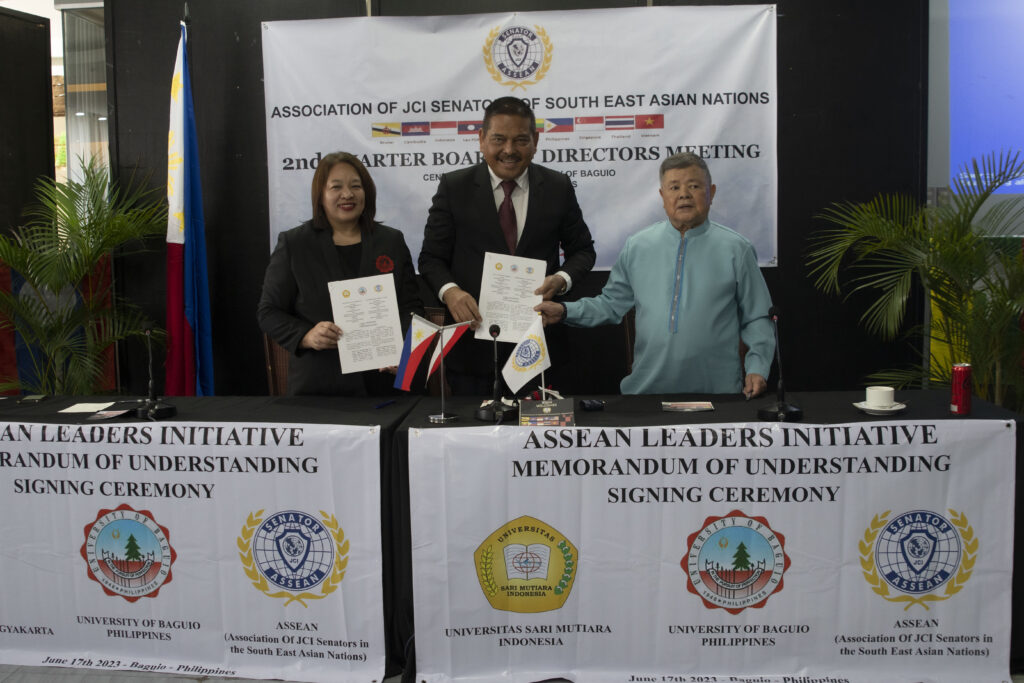 Campus Tour and Future Prospects
Following the MOU signing ceremony, the ASSEAN Leaders were given a comprehensive campus tour of the University of Baguio's state-of-the-art facilities and laboratories. This provided them with firsthand insights into UB's commitment to innovation and research excellence.
With the formalization of this collaborative partnership, the participating universities can look forward to a range of potential initiatives and opportunities. These may include faculty exchanges, joint research projects, student mobility programs, and the sharing of academic resources. By leveraging their collective strengths and expertise, the universities aim to enhance the quality of education and contribute to the sustainable development goals of the ASEAN region.