HOW TO PAY THE RESERVATION FEE
Choose one of the following bill payment portals:

Union Bank Online
BPI Quick Pay
Metrobank Bills Pay

Enter the following:

Company Name: University of Baguio
Subscriber Name: Student/Applicant Full Name
Subscriber Number/ID Number: Applicant ID Number
Reference Number: (OP Code) CF112 – Reservation Fee

Finish the transaction and take screenshot or print as a proof of payment and attached to the google form registration portal.
Note: No other banks or payment methods will be accepted.
Option 1: Cashier
Proceed to the University of Baguio Cashier. (Monday to Saturday, 8:00AM – 5:00 PM)
Payment through Metrobank Online Platform
Payment through Union Bank Online Platform
Click here for step by step procedures.
Payment through BPI Quickpay
Click here for step by step procedures.
Option 5: Online Payment Using the UB Student Portal
**Available only for current students with ID numbers
Please note that some problems may occur when using Mozilla Firefox web browser. We highly suggest the use of Google Chrome.
Step 1.
From the main dashboard, select Online Payment. Click on Payment Gateway and then Paygate.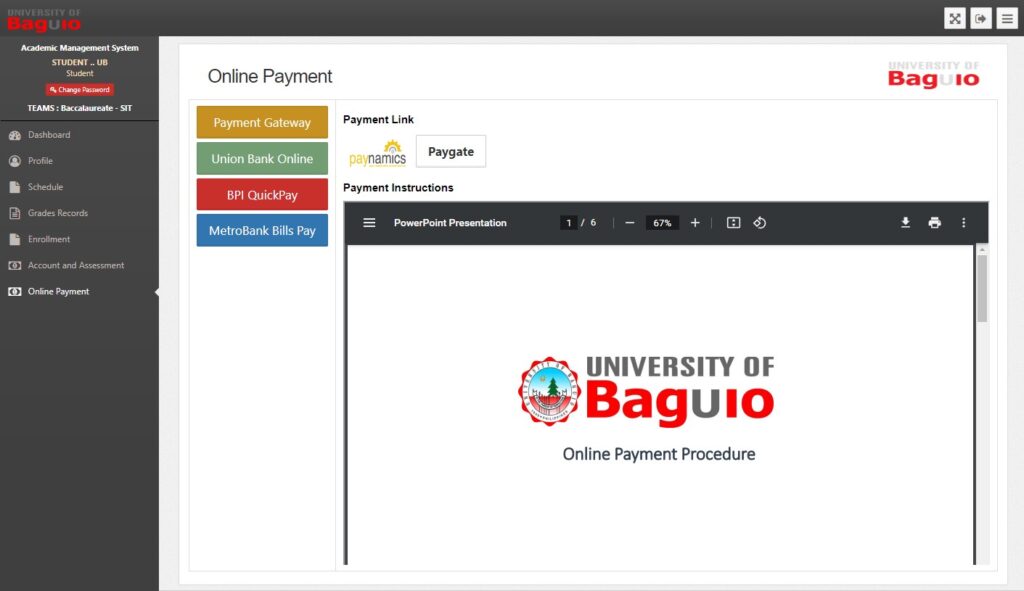 Step 2.
Read carefully the terms and conditions, transaction fees and posting time of available payment channels. Click on Continue to Payment.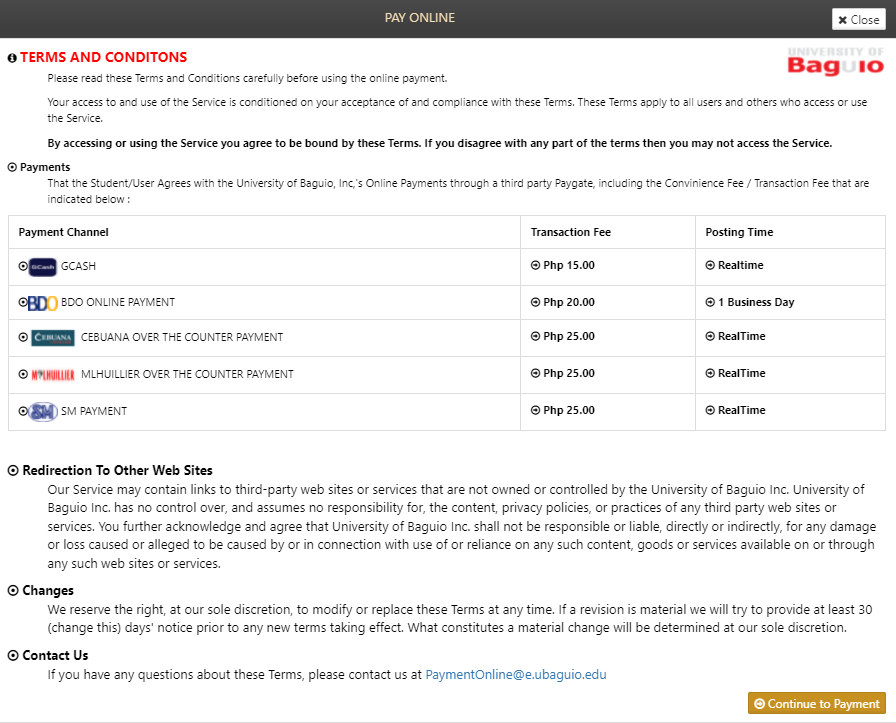 Step 3.
Fill-out all the necessary fields, select the payment channel and click on the Proceed to Payment button.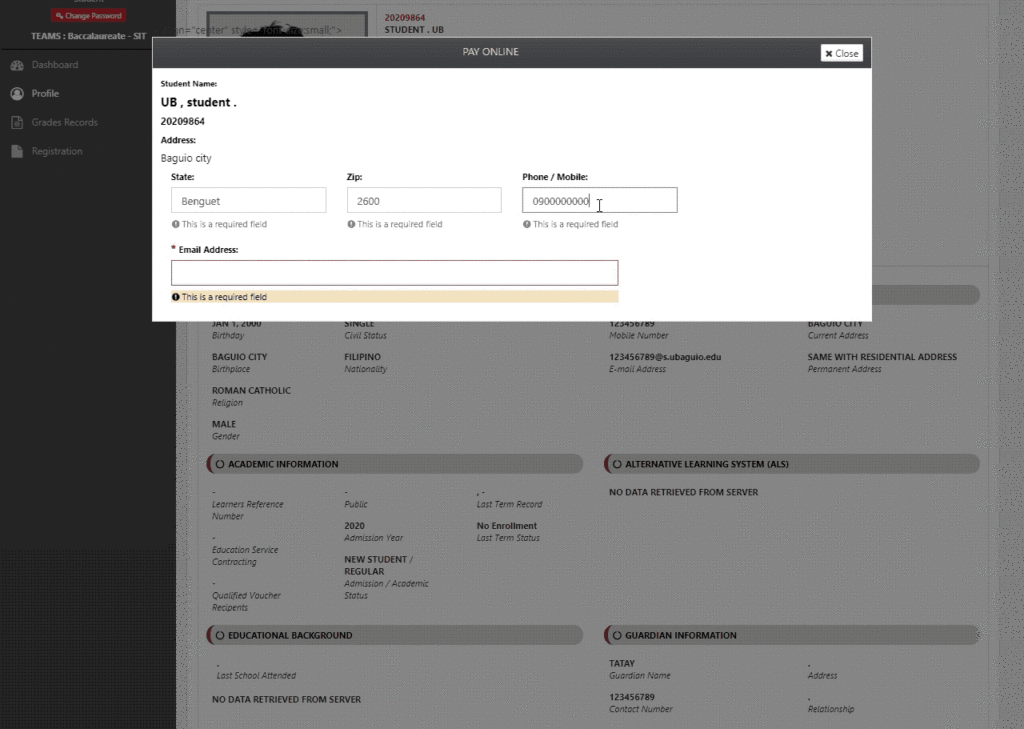 Step 4.
Agree to the terms and conditions and click continue. You will be redirected to the payment channel's page.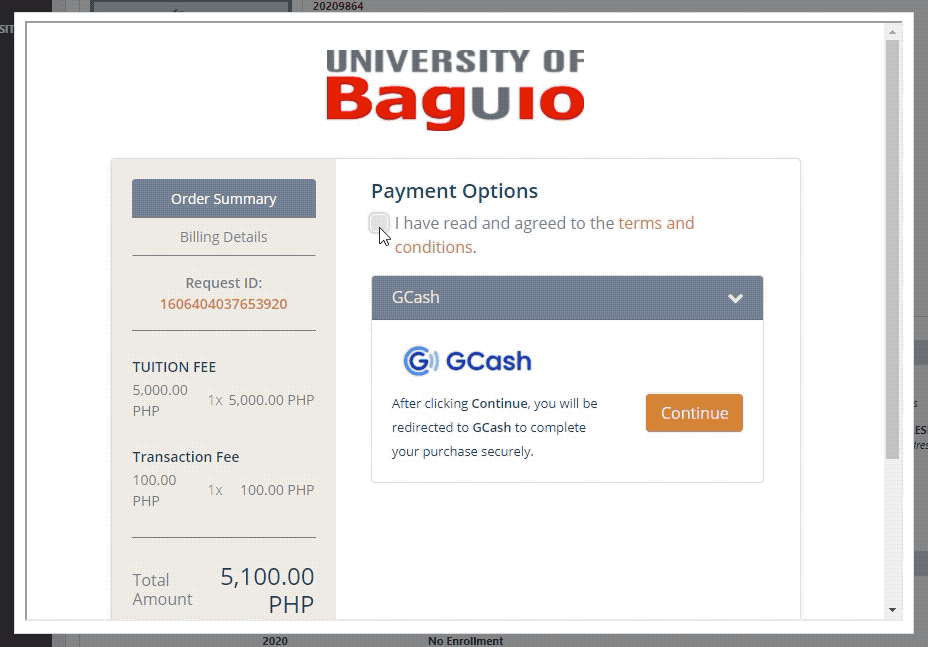 Step 5.
Complete the steps on the selected payment channel. Please keep a copy/screenshot of the transaction for reference.
For additional queries regarding online payments, please email onlinepayments@e.ubaguio.edu or cashier@e.ubaguio.edu