Option 1: Cashier
Proceed to the University of Baguio Cashier. (Monday to Friday, 8:00AM – 3:00 PM)
Payment through Metrobank Online Platform
Payment through Union Bank Online Platform
Click here for step by step procedures.
Payment through BPI Quickpay
Click here for step by step procedures.
Option 5: Over the Counter Bank Payment
Payment through Metrobank Bills Payment, BDO, Landbank
Proceed to a Metrobank/BDO/Landbank near you.
Metrobank
Pay using "Bills Payment"
Account Name: UNIVERSITY OF BAGUIO
Click here for step by step procedures.
BDO
Savings Account Number: 001830055680
Landbank
Savings Account Number: 0221287800
Upload the scanned copy of the proof of payment to the online payment verification form.
Option 6: Online Payment Using the UB Student Portal
**Available only for current students with ID numbers
Please note that some problems may occur when using Mozilla Firefox web browser. We highly suggest the use of Google Chrome.
Step 1.
From the main dashboard, select Online Payment. Click on Payment Gateway and then Paygate.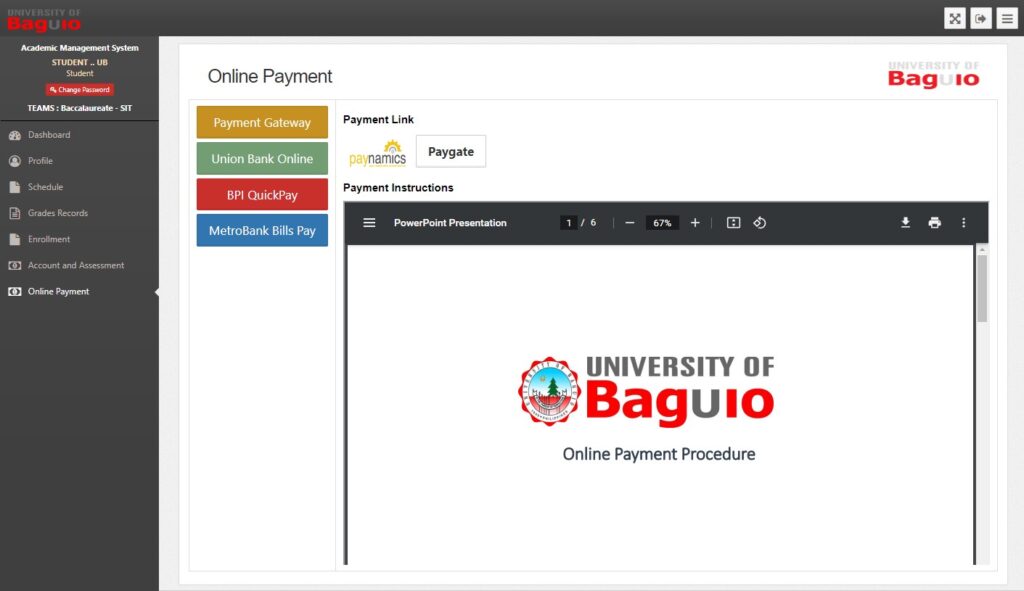 Step 2.
Read carefully the terms and conditions, transaction fees and posting time of available payment channels. Click on Continue to Payment.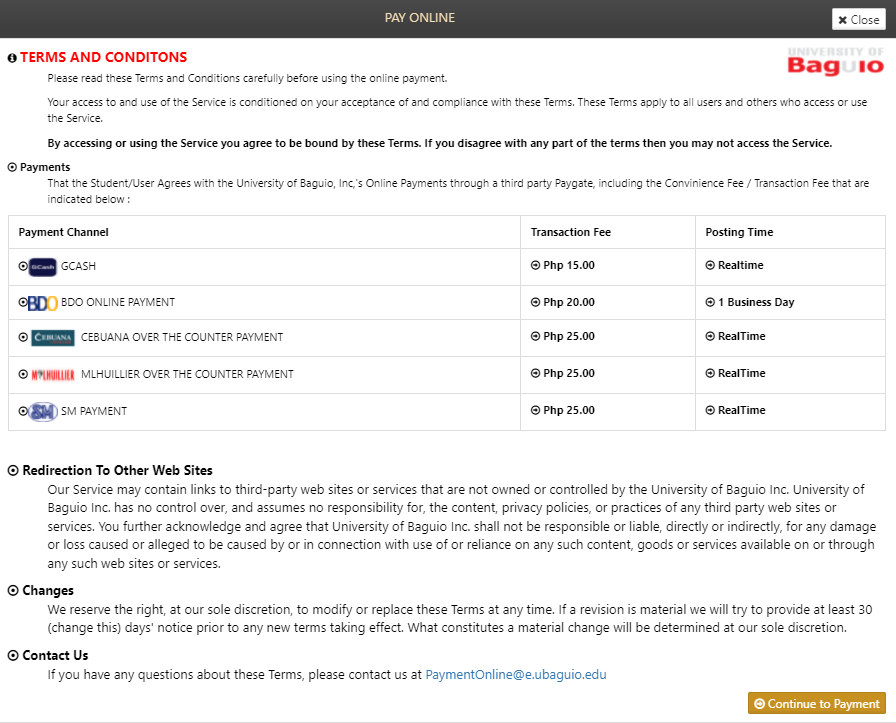 Step 3.
Fill-out all the necessary fields, select the payment channel and click on the Proceed to Payment button.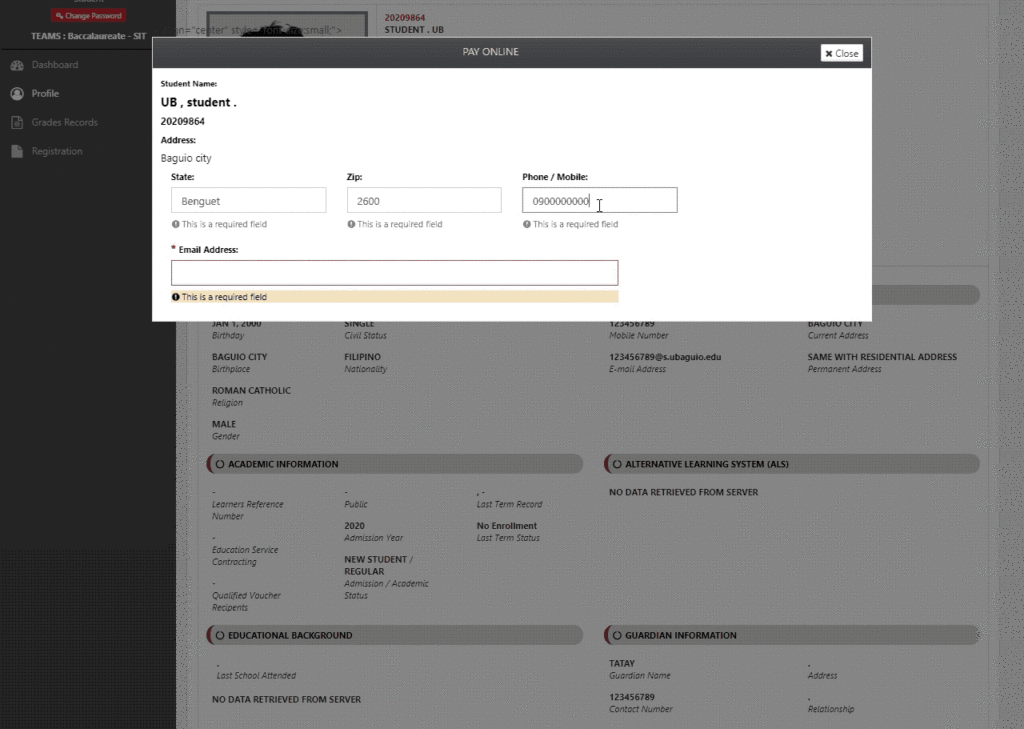 Step 4.
Agree to the terms and conditions and click continue. You will be redirected to the payment channel's page.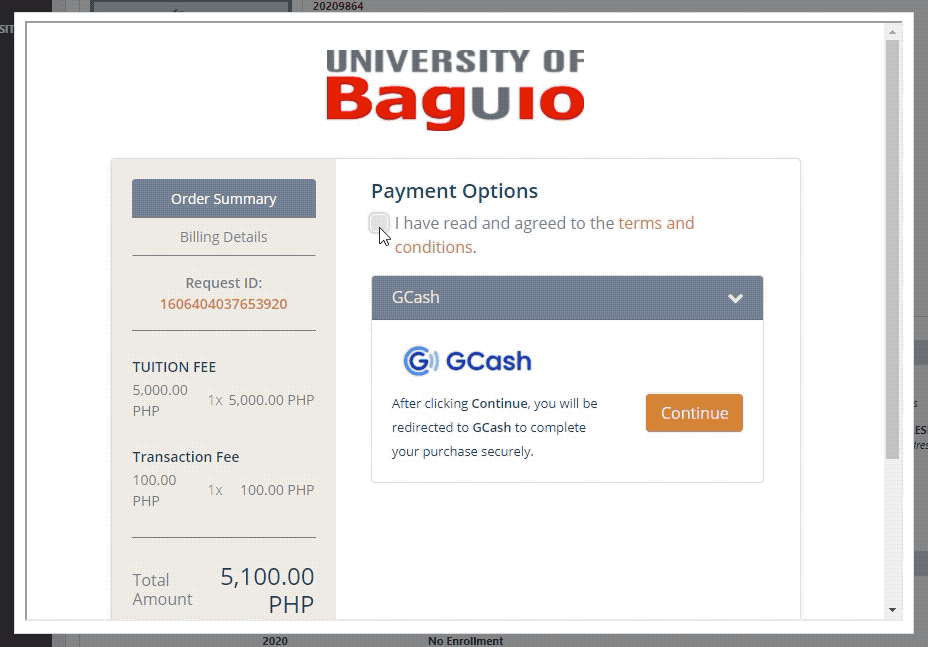 Step 5.
Complete the steps on the selected payment channel. Please keep a copy/screenshot of the transaction for reference.
For additional queries regarding online payments, please email onlinepayments@e.ubaguio.edu or cashier@e.ubaguio.edu