In line with the objective of the University of Baguio to produce graduates who undertake scientific and significant researches, the School of Teacher Education and Liberal Arts conducted its first online research colloquium entitled Social Education Conference: Search for Best STELA Student Research 2022 with the theme "Promoting Resilience and Transformation through Research Studies in Education and Liberal Arts." This activity, spearheaded by STELA, gave students an opportunity to share and present the significant findings of their researches.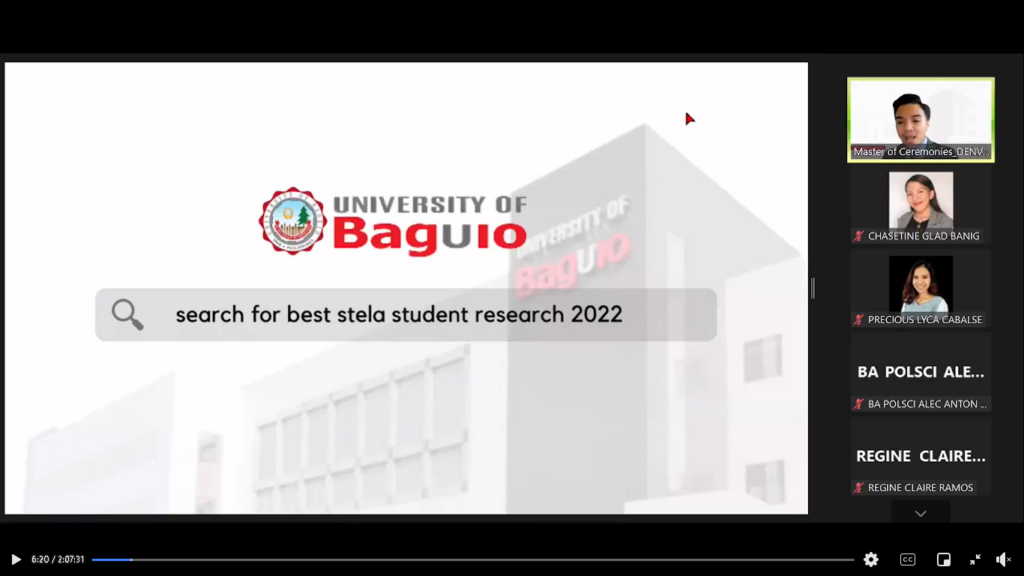 The former Program Chair for Bachelor of Arts in Political Science, Mr. Farland D. Valera, attended the colloquium and gave a message on the importance of engaging in research studies in transformation and sustainability.
26 papers were presented under 4 clusters: Social and Political Issues, Human Understanding and Behavior, Language and Communication, and Teaching and Learning.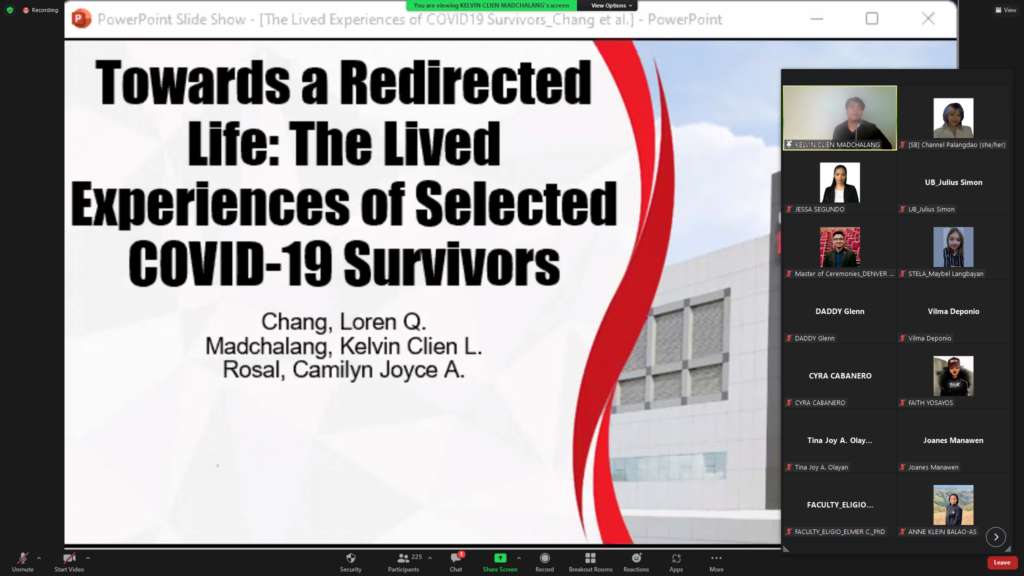 The Winning Works
The following are the top three winners per cluster:
Cluster 1: Social and Political Issues
First Place
Tongtong Practice of Bakun Benguet: Its Historical and Political Relevance by July A. Acierto, princess Danica N. Arconado, Leony S. Balatong, Vaniza P. Banglig, and Rhavine G. Dato
Second Place
Kaut: A Resilient Practice Amidst COVID-19 Restrictions Among Kankanaeys of Sitio Lamut, Beckel, La Trinidad Benguet by Sheril Ann C. Cayaro, Arcelyn P. Liwan, and Lea Mae B. Pacsi
Third Place
The Local Government Response to COVID-19 Pandemic as Perceived by College Students Residing in Baguio City by Abel T. Banaang, Kurt Jude L. Bayacsan, Bryan S. Corpuz, Alejo A. Daplian Jr., Tyson B. Dongla, and Jacob W. Gumastin
Cluster 2: Human Behavior and Understanding
First Place
The Behavioral Approach of Generation Z to Inayan Culture in Besao, Mt. Province Cordillera Region By Jessa P. Elias
Second Place
Understanding Students' Perception of Pabibo by Jherimica D. Angeles, Martina Monica D. Canlas, and Jennivie L. Gaong
Third Place
The Perceived Stigma Among Children in Conflict with the Law in Baguio City by Bryan Patrick C. Aromin and Rikka Antonette I. Landingin
Cluster 3: Language and Communication
First Place
Analysis on the Visual Design Cuse in Video Thumbnail of Selected Non-Filipino YouTube Channels by Phillip Justine B. Llana, Darlene Hanan A. Marino, and Denver Koby L. Soriano
Second Place
Code Switching in the Film, Hello, Love, Goodbye by Griffin Johnstad D. Sanchez and Judy Ann I. Siki
Third Place
A Semantic Analysis of the Karen Meme Pejorative by Meagan Kenjh D. Sabado
Cluster 4: Teaching and Learning
First Place
Improving the Academic Performance of Grade 9 Learners in Mathematics Through Arts in Math (AIM) Strategy by Joshua Nico V. Bati
Second Place
UB Communication Students' Reading Habits on Baguio Local Online News by Jason T. Andaya, Jan Vincent B. Barroga, and Haina Chrisha D. Ramos
Third Place
Parent-Teacher Collaborative Efforts in the Improvement of Students' Academic Performance Amidst Pandemic in Dibul Elementary School by Rica Mia P. Cabanting, Maureen A. Pingkihan, Mona Reyna S. Lawayan, and Guillermo M. Yap
Article written by: Jamby Baldago
Edited by: Benjamin Lasegan III